The "Theme From Peter Gunn" was recorded at Iwii in Hoboken and mixed by Lorenzo Crescibene at Luna Sound--the mp3 starts about halfway through the track.This is one of several tracks I did for the documentary "The Sopranos--Unauthorized" by Sandy Oliveri.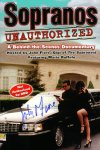 It's a behind-the-scenes look at the Sopranos including interviews with the major players and visits to the locations where the Sopranos was filmed. Rhythm section included myself on guitar, Karl Latham on drums, John Hughes, bass, Mike DiLorenzo piano, and Frank Valdes. Trumpets: Steve Jankowski, Barry Danelian, Dave Rogers, Dave Zalud; bones: Bob Hankle, Conrad Zulauf, Doug Rothauser, Wayne Coniglio; french horns: Dick Goodman, Susan LaFever, Chris Wilhjelm, and Jim Robinson. Alto solo is by Mark Friedman.
---

My arrangements of
"Little Girl"
and
"My Baby Just Cares For Me"
with Richie Rosato on vocals were recorded at Luna Sound by Lorenzo Crescibene for Richie's new album, "All My Tomorrows". The horn section included Vinnie Cutro, trumpet, Conrad Zulauf, bone, Mark Friedman, alto, Frank Elmo, tenor, Dan Nigro, bari. The rhythm section was John Hughes, bass, Mike DiLorenzo, keys, Jay Dittamo, drums, and Willy Dalton, guitar.
---
"Bin Laden, You've Been Livin' Too Long" wasrecorded by the Pater Stan Man. The drums are played by Karl Latham and were recorded at his home studio. The bass, by John Hughes, was recorded along with everything else at my home studio in Digital Performer. It is available on the cd "Tall Tales Of Osama Bin Laden".
---
"WTC911" is my contribution to the September Rising Project. It features myself on guitar and Frank Valdes on maracas and was recorded at my home project studio in Digital Performer. You can find it on the September Rising music page at: http://septemberrising.org/music/
---
"What Does It Take" is the late '60's Junior Walker classic done in a Latin dance style for sax player Ronnie Greco. I arranged the project in Digital Performer. Drums (Vince Cherico) and percussion (Frank Valdes) were recorded at ESR Studio by Steve Meyer and transferred back to DP. Bass (John Hughes), piano (Mike DiLorenzo), vocals (Shirley Marshall, Robin Daniels, Julian Hernandez), my guitar, and Ronnie's sax were recorded at Luna Sound by Lorenzo Crescibene.
---
Two Time from songwriter Joe Vancheri, with Daniel McKnight rapping, and Diane Spann-Miller on vocals. Produced and arranged at my home project studio.
Just Say I Love Her feature's Richie Rosato on vocals--it's my arrangement from the Duprees' album "Love Italian Style" recorded at Luna Sound by Lorenzo Crescibene.
---
"Counting The Hours" is from Pam Tate's album, "DieHappy". That's me on guitar along with John Hughes on bass, Mike Mancini on keys, Dave Longworth on drums . I also arranged the horns. Recorded by Jeremy Harris at Westrax.
"Born To Late (for the Beat Generation)" is from Pam's second album, "Dancing On The Pyramids"--I acutally like this in mono. I'm on guitar along with Mike Mancini on keys, Paul Ossola on bass, and Vince Cherico on drums. Recorded by Jeremy Harris at Unique.