Riverwalk
The CD "Riverwalk" was released in September 2009. The title music is the 5 movement piece I wrote for string quartet and guitar in 1996/97. I received a grant for this composition from the National Urban History Initiatiative. The inspiration for the music is The Great Falls and surrounding area in Paterson NJ. A recording of this piece and 4 original pieces for solo nylon string guitar is now available from Second Step Music. Scores for the music are also available here. CD's and mp3's of the individual tracks are also available on iTunes and CD Baby.

Alan Fark at Minor7th.com wrote: "'Riverwalk' includes five short, but ingenious, tracks which remind us that fingerstyle and classical idioms are branches from the same heritage, and which commingle very naturally. "Ducks on the Water" and "The 4th of July" especially evoke the pastoral polytonality of Darius Milhaud's works."
Here is info on the recording: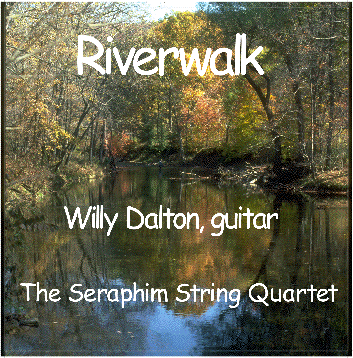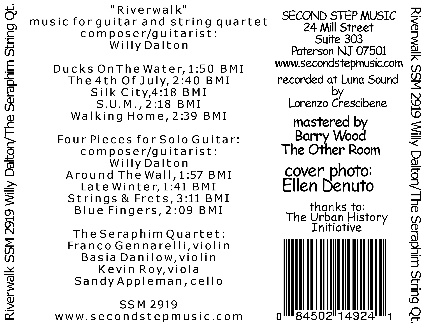 Here are 40 second mp3's of the tracks:
Here's a video of the orginal performance of the 5th and final movement, "Walking Home".
.